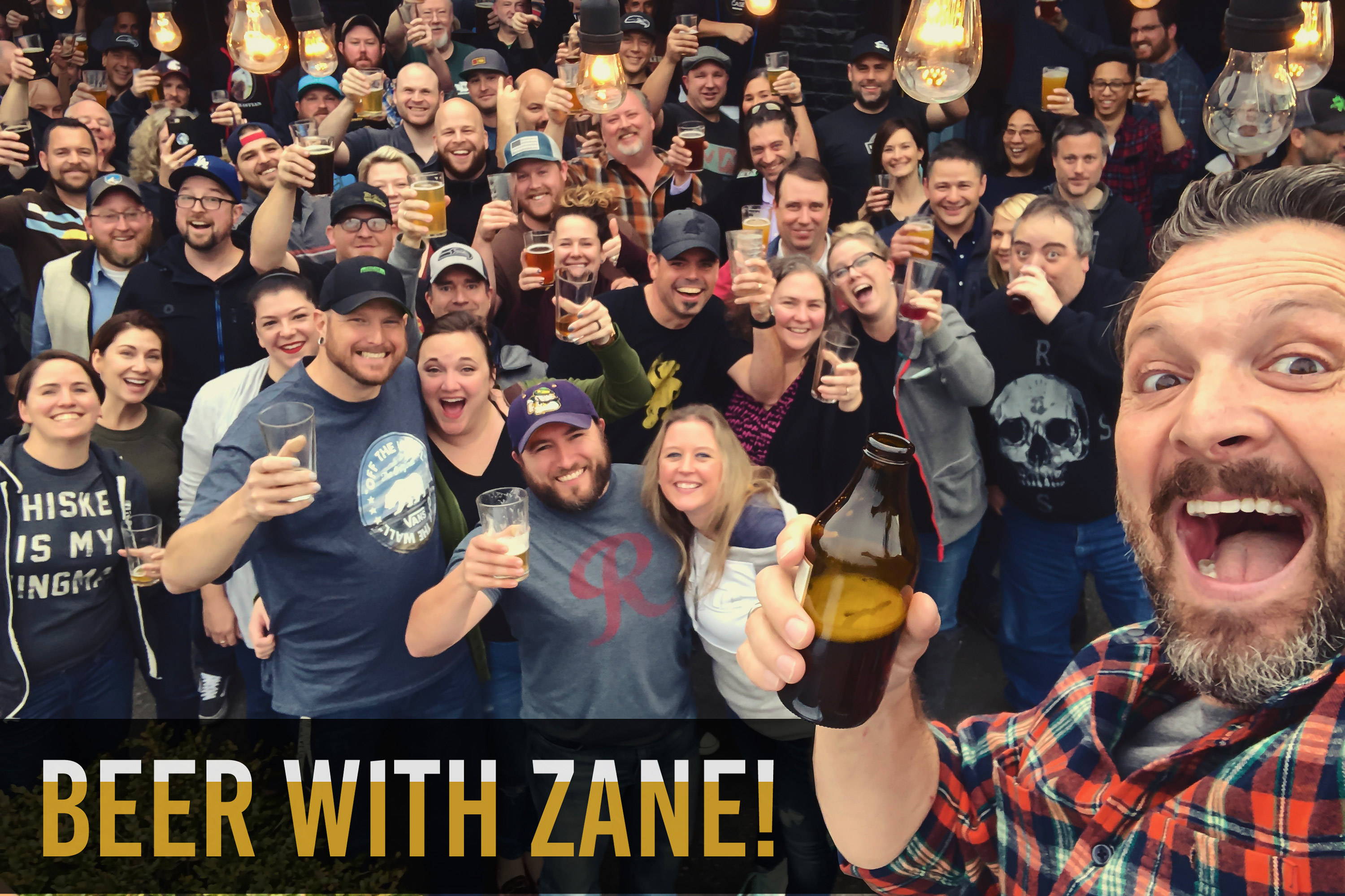 Zane is hitting Breweries, Brew Pubs and Bars to personally thank ADV3NTURE investors, to talk with those who are interested in investing, and chat with anyone who has questions. Let's meet up, grab a beer, tell stories, and take photos!
There's a lot going on with ADV3NTURE (like brewery collaborations, international trips and new products) and Zane's excited to talk about it all in person! He'll be announcing exact locations of the Breweries, Brew Pubs and Bars on social media (@zanelamprey @adv3nture) and on this page next week. AND, he'll be announcing Mountain, Central, and East Coast cities in the next soon!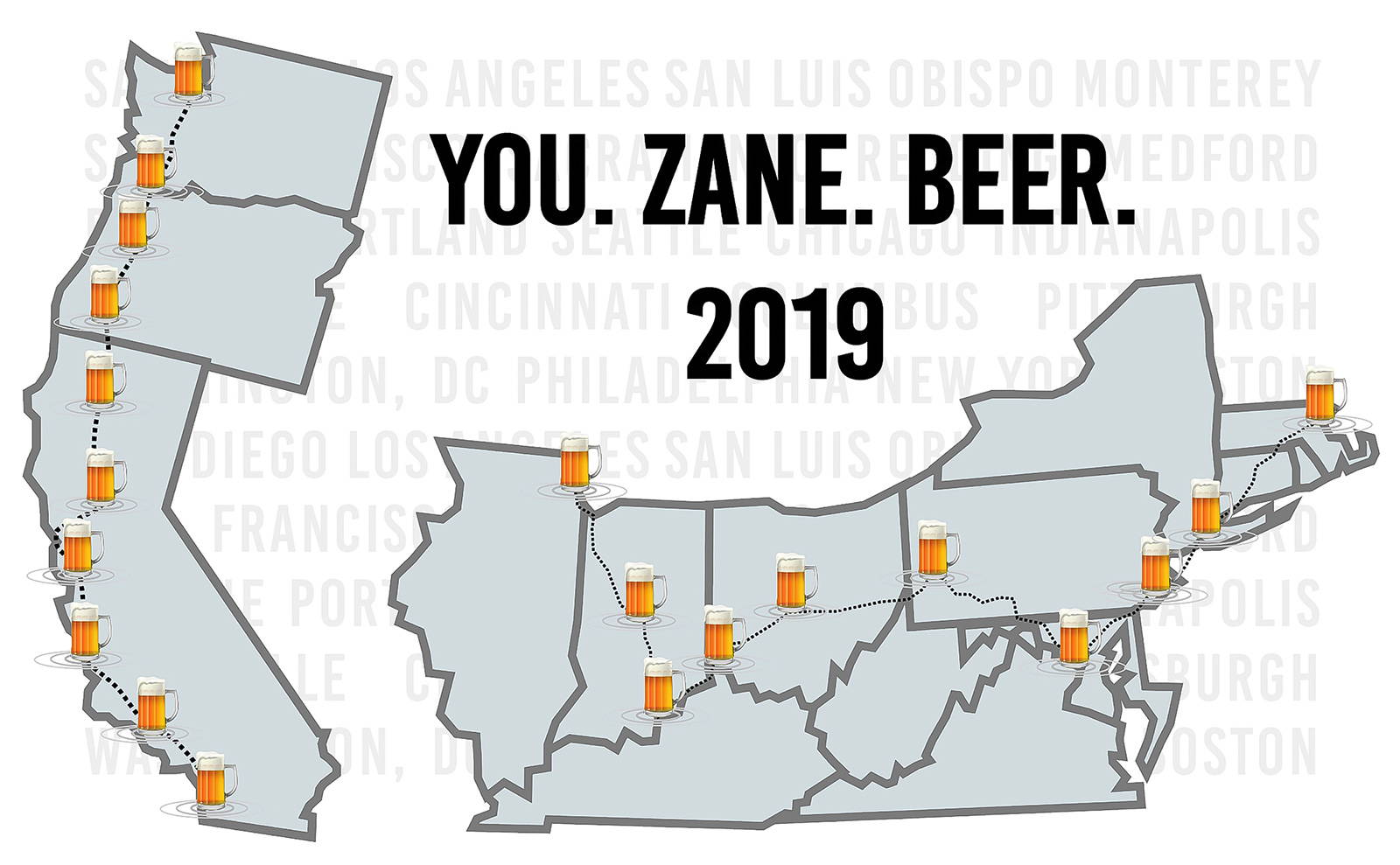 SATURDAY, OCT 5 • SAN DIEGO, CA

MODERN TIMES BREWERY

3725 GREENWOOD STREET
5-7PM

ROCKED IT! - THANK YOU SAN DIEGO


WEDNESDAY, OCT 9 • LOS ANGELES, CA

BLUEBIRD BRASSERIE
13730 VENTURA BLVD.
7-9PM
SO FUN! - THANK YOU LOS ANGELES


THURSDAY, OCT 10 • SAN LUIS OBISPO, CA

CENTRAL COAST BREWERY
1422 MONTEREY STREET
6-8PM
CHEERS! - THANK YOU SAN LUIS OBISPO
ALVARADO STREET BREWERY
426 ALVARADO STREET
1-3PM
FRIENDSHIPS WERE MADE! - THANK YOU MONTEREY


FRIDAY, OCT 11 • SAN FRANCISCO, CA

21ST AMENDMENT BREWERY
563 2ND STREET

TOTAL BLAST! - THANK YOU SAN FRANCISCO

SATURDAY, OCT 12 • SACRAMENTO, CA

BOTTLE & BARLOW
1120 R STREET
7-9PM
WHAT A GREAT CROWD! - THANK YOU SACRAMENTO


SUNDAY, OCT 13 • REDDING, CA
FINAL DRAFT BREWERY
1600 CALIFORNIA STREET.
2-3P
GOOD TIMES! - THANK YOU REDDING


SUNDAY, OCT 13 • ASHLAND, OR
CALDERA
590 CLOVER LANE
7-9P
THAT WENT BY TOO QUICKLY! - THANK YOU ASHLAND


MONDAY, OCT 14 • EUGENE, OR
HOP VALLEY BREWING CO.
990 W 1ST AVE.
1-3P
WE FELT THE LOVE! - THANK YOU EUGENE


MONDAY, OCT 14 • PORTLAND, OR

BREAKSIDE BREWERY
1570 NW 22ND AVE.

7-9P
TALK ABOUT AWESOME! - THANK YOU PORTLAND


TUESDAY, OCT 15 • SEATTLE, WA

LOWERCASE BREWING
6235 AIRPORT WAY S

5-7P
AN INSANE CLOSE TO A SOLID TOUR! - THANK YOU SEATTLE

MidWest + East Coast cites!
THURSDAY, OCT 17 • CHICAGO
REVOLUTION BREWING
3340 N KEDZIE AVE
7-9P
A PERFECT KICKOFF - THANK YOU CHICAGO


FRIDAY, OCT 18 • INDIANAPOLIS
SUN KING BREWING
135 N COLLEGE AVE
7-9P
SO SO GOOD - THANK YOU INDIANAPOLIS


SATURDAY, OCT 19 • LOUISVILLE
AGAINST THE GRAIN BREWERY
401 E MAIN STREET

1-3P
THAT WAS A SWEET STOP - THANK YOU LOUISVILLE

SATURDAY, OCT 19 • CINCINNATI
RHINEGEIST BREWERY
1910 ELM STREET
7-9P
YOU ALL KICK ASS - THANK YOU CINCINNATI


SUNDAY, OCT 20 • COLUMBUS
LAND-GRANT BREWING
424 W. TOWN STREET
1-3P
THAT WAS TOUGH TO LEAVE - THANK YOU COLUMBUS


SUNDAY, OCT 20 • PITTSBURGH
SOUTHERN TIER BREWING CO
316 N SHORE DRIVE
7-9P
THAT ENERGY! - THANK YOU PITTSBURG


MONDAY, OCT 21 • WASHINGTON, DC
BLUEJACKET
300 TINGEY STREET SE

7-9P
BOOM! - THANK YOU WASHINGTON, DC


TUESDAY, OCT 22 • PHILADELPHIA
YARDS BREWING CO.
500 SPRING GARDEN STREET

6-8P
WEDNESDAY, OCT 23 • NEW YORK CITY
BROOKLYN BREWERY
79 N 11TH STREET

6-8P
THURSDAY, OCT 24 • BOSTON
TRILLIUM BREWING CO.
50 THOMSOM PLACE

7-9P